Here is the latest update from Free Our Midwives.org. Have a great weekend. Kiss a father!
May all babies be born into loving hands...
K. Michelle Doyle, CNM, NYS LM
www.localcaremidwifery.com
www.localcaremidwifery.blogspot.com
Preserving Safe & Healthy Birth Choices for New York Families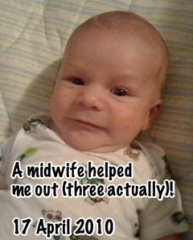 Thursday was Midwifery Modernization Act in the news day! The physician trade organization, The American Congress of Obstetricians and Gynecologists (ACOG) held a press conference in Albany today, voicing strong opposition – not surprising, but still disappointing! Their comments revealed a clearly misinformed understanding of midwifery as a profession, the role of the written practice agreement, and the current maternity care crisis confronting New York State women in the face of restricted access to midwives. Fortunately, NYSALM was prepared (thanks in part to a Free Our Midwives consumer who shared with us the ACOG press release in advance). We reached out to reporters across Albany and New York State with the truth – midwifery is safe and the written practice agreement does not enhance the safety of mothers or babies. The result? Balanced coverage that did not just echo ACOG's party line.
It is important for us to remember, as we contact legislators and speak with our friends and family about this bill, that the MMA will change nothing about how midwives practice and consult with physicians. A written practice agreement does not ensure the safety of women and babies. It is the midwifery model of care, including collaboration and consultation with physicians as needed, that provides for the excellent outcomes we see with midwife-attended birth.
For Friday:
1.
Check out the New York Times article
that just came out and leave a comment.
2. Pat yourself on the back – we are all doing a great job keeping the consumer energy strong and present while lobbyists and midwives work on the ground in Albany.
We will be on facebook
all day tomorrow with updates and requests for specific constituent contact as the needs arise.
Together we will see this bill to the floor and watch it pass! Have a great weekend everyone — your hard work is so appreciated.
**************